Home >> Air >> Carbon Dioxide (CO2) >> Use less electricity >> Home >> Buy Energy Star appliances
---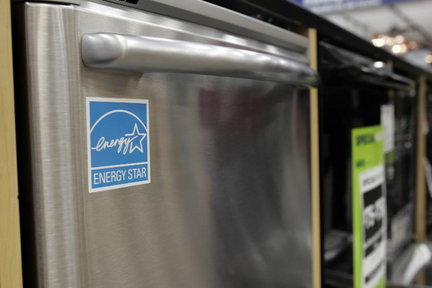 12
Buy Energy Star appliances
If you do this action, you could earn another 12 points [add to points]

Energy efficient purchases can save families about a third on their energy bill with similar savings of greenhouse gas emissions, without sacrificing features, style or comfort. ENERGY STAR helps you make the energy efficient choice.
Don't have money to invest? You can now get "green" mortgages to help pay for energy-efficient investments on your new or existing home.
Energy Star
Energy Efficient
Easy Scale:
[8]
(1-10 scale, 1 = Difficult and costly, 10 = simple and no cost or little effort)
Impact Scale:
[4]
(1-5 scale, 1 = Minor but worthwhile, 5 = Strong impact on environment)
Want more info...
ENERGY STAR is a joint program of the U.S. Environmental Protection Agency and the U.S. Department of Energy helping us all save money and protect the environment through energy efficient products and practices.
Category: Home


---
User Comments
Be the first to add a comment ...

You must have an account to make a comment (it's free!)
Already a member? Login at the top of the page...
---
Random products from our store