Products Home
→
Shopping
We have 74 items in this category. View products from all categories >>>
---
Garbology: Our Dirty Love Affair with Trash - $12.99
The average American produces 102 tons of garbage across a lifetime and $50 billion in squandered riches are rolled to the curb each year. But our bin...
[Shopping]


---
Beaded Fair-Trade Purse - $44.99
This purse is quilted and closes with a magnetic snap. It comes in red with an OM sign made up of tiny black beads. These are fair trade bags made in ...
[Shopping]


---
Wooden Top - $6.95
This wooden top is fun and fair! It is made of different wooden pieces of different colors, carved into a smooth shape.This product is made by HSSS, a...
[Shopping]


---
Fair Trade Embroidered Gift Tags (Set of 5) - $6.95

These gift tags are made of recycled waste cotton and come in sets of 5. They have different base colors and have embroidered designs on them. Th...
[Shopping]

---
Labryinth Game - $10.95
Classic game: maneuver metal beads through a labyrinth by tilting the game.This product is made by HSSS, a non-profit organization that works for the ...
[Shopping]


---
Fair Trade Recycled Gift Pouches (Set of 4) - $24.95

Gift pouches that come as a set of 4 assorted pieces. Made by recycling waste patches from the apparel industry. Ideal for wrapping small gift item...
[Shopping]

---
Tic-Tac-Toe Game - $13.95
Classic game updated for travel. Flipping blocks are printed with Xs, 0s, or blank. Blocks are all secured to the box so they won't get lost. Keep you...
[Shopping]


---
Fair Trade Stuffed Animals - set of 3 - $42.95
These stuffed animals will appeal to small children and even pets with their bright colors. They have no beads or other objects that might be ripped o...
[Shopping]


---
Striped Jute Bag - $53.34
This bag comes in two colorways - both are vibrant and lively! Made out of jute, this bag is earth-friendly, natural, and very sturdy. It has an enorm...
[Shopping]


---
| | | |
| --- | --- | --- |
| | PRODUCT REVIEWED | |
Polywood Adirondack Chair - $269.99
Enjoy carefree outdoor living with beautiful POLYWOOD furniture made from high-quality, durable recycled plastic lumber in classic and contemporary st...
[Shopping]


---
Dice Box - $10.95
This small wooden box (shaped and made to look like a large die) contains 5 small dice.This product is made by HSSS, a non-profit organization that wo...
[Shopping]


---
Carbon Offset Chet Doll - $23.99
Eco-dough is an all natural alternative. Made it with plant, fruit and veggie extracts! No chemicals, artificial dyes or metals. The containers are ma...
[Shopping]


---
Candy Stripes Bag - $37.99
This cross-shoulder, spacious purse is fun and functional. Fun and flirty red/pink hues adorn the outside while the inside is lined with a floral patt...
[Shopping]


---
Earthopoly Board Game - $19.99
Earthopoly is a game that celebrates the earth one turn at a time. Players buy properties, collect carbon credits and trade them for clean air. As the...
[Shopping]


---
Black Three Way Purse - $14.99

Black Three Way Purse
Recycled Plastic [PETE]. Small, smart and stylish! Its soft but sturdy construction allows for a good amount of exp...
[Shopping]

---
Oceanopoly Board Game - $24.97
Oceanopoly has all the fun of a traditional property trading game with some underwater twists. You'll swim around the board as a crab, fish, shark fin...
[Shopping]


---
Penguin Umbrella - $29.99

Penguin Umbrella
The fabric is made of Recycled Plastic [PETE] with a handle made of recycled plastic and 65% rice. The handle will decompo...
[Shopping]

---
Rose Orchid Eco Friendly Gift Bags (Set of 3) - $12.95
These colorful large gift bags are made of recycled cotton rags, making them 100% tree free! These gift bags come in sets of 3, each a different color...
[Shopping]


---
Swirl Eco Friendly Gift Bags (Set of 3) - $12.95
These colorful large gift bags are made of recycled cotton rags, making them 100% tree free! These gift bags come in sets of 3, each a different color...
[Shopping]


---
Floral Eco Friendly Gift Bags (Set of 3) - $12.95
These colorful large gift bags are made of recycled cotton rags, making them 100% tree free! These gift bags come in sets of 3, each a different color...
[Shopping]


---
Eco Friendly Gift Bags - Set of 5 (Small) - $9.95

Set of 5 gift bags with beautiful assorted prints. These are made from recycled cotton rags, therefore they are 100% tree free and environmentally...
[Shopping]

---
Red and Blue Dots Yoga Mat Bag - $19.99

Yoga Red & Blue Dots Mat Bag
Two front zippered compartments and side bottle holder. Webbing strap. Gently wipe with a wet cloth and soap t...
[Shopping]

---
Black Stars Yoga Mat Bag - $19.99

Black Stars Yoga Mat Bag

Two front zippered compartments and side bottle holder. Webbing strap. Gently wipe with a wet cloth and soap t...
[Shopping]

---
Power Bag - $45.99
Roomy, functional unisex bag made from recycled rubber and organic cotton. Attractive all purpose bag featuring an outer pocket, nickel buckle closur...
[Shopping]


---
Vulcan Bag - $34.99
Designed for those who dance to a different drummer. Functional, yet fiendishly attractive in it's logical simplicity. Features a vertical zipper fo...
[Shopping]


---
Smart Business Bag - $54.99
Unisex business bags made from recycled rubber and organic cotton. Large enough to accomodate a lap top computer, this bag features ippered closures,...
[Shopping]


---
The Cassiopeia Bag - $44.99
Hand fashioned from recycled rubber. A masterpiece of style. Simple, yet elegant, this shoulder purse features an adjustable, padded strap and a ful...
[Shopping]


---
Triton Business Bag - $54.99
Here's a satchel that means business. The crisp, striking design is appreciated by both scholars and fast packed business people. Features include a...
[Shopping]


---
Engage Green Backpack - $49.99

Great design – so many uses! This backpack has an adjustable waist strap and padded shoulder straps with chest and hip buckle closures to hold the ...
[Shopping]

---
Adventure Back Pack - $59.99
This recycled rubber back pack is perfect for venturing forth into mysterious and perhaps unknown places far from the beaten path. No matter where yo...
[Shopping]


---
Moon Bag - $22.99
Green and Classy! Hand fashioned from recycled rubber and organic cotton. A simple yet striking hand bag that is functional and classy. Sewn recylc...
[Shopping]


---
Carry All Bag - $49.99
Made from recycled rubber and organic cotton. This Carry-All Bag is rugged, durable and can stand up to hard use day in and day out. Easily large en...
[Shopping]


---
Freedom Bag - $29.99
Green and classy. Hand fashioned from recylced rubber. A fun evening purse. Chrome rivets, grommets and chain. Dimensions 9" x 8" x 3"...
[Shopping]


---
About Town Bag - $32.99
Green and Classy! Hand fashioned from recycled rubber and organic cotton. A stylish, roomy bag for busy people. Sewn recycled rubber and your choic...
[Shopping]


---
Day Purse - $28.99
Green and Classy! Hand fashioned from recycled rubber and organic cotton. A great everyday hand bag. Sewn recycled rubber and your choice of straps...
[Shopping]


---
Truffle Duffel Bag - $29.99
A personal sized canvas duffel with a recycled rubber botton for extra durability. Double cotton straps can be worn as a shoulder bag or back pack. ...
[Shopping]


---
Smart Shoulder Bag - $39.99
Ideal for students or busy office staff, this all purpose bag attractively melds recycled rubber with cotton canvas. Features double zippered closure...
[Shopping]


---
Green Toys Tea Set - $21.99
This authentically styled tea set comes in pastel colors with interchangeable lids for the pot and sugar bowl. The lightweight set is made out of a du...
[Shopping]


---
Ameri-cans Eco Puzzle - $13.95
Puzzle is a 500 piece jigsaw puzzles imbedded with wildflower seeds. When they find their way to a landfill, or when you plant them in your garden, t...
[Shopping]


---
Bamboo Mancala - $8.99
The goal of each player is to collect the glass beads in his or her mancala (the big cups at each end of the game board). Begin your game by filling e...
[Shopping]


---
Recycled Flip Flop Lobster - Kenya - $49.99
Defending against the thousands of abandoned flip flops that litter the shores of the Indian Ocean in Kenya, this hand carved flip flop lobster stands...
[Shopping]


---
Bamboo Builders Logs - $24.99
These building toys are made from bamboo, the ultimate sustainable material. It's naturally organic and 100% biodegradable and is naturally regenerati...
[Shopping]


---
Tiger In Your Tank Eco Puzzle - $13.95
Puzzle is a 500 piece jigsaw puzzles imbedded with wildflower seeds. When they find their way to a landfill, or when you plant them in your garden, t...
[Shopping]


---
Eco-dough Tube (Gluten Free) - $29.99
This tube of gluten, dairy and soy free dough comes with 6, 3 oz. containers of eco-dough. For the little ones with allergies! Colors will be 6 of the...
[Shopping]


---
Tri-Piece Puzzle - $9.95
Challenging puzzle with 3 wooden pieces. Contains instructions. This product is made by HSSS, a non-profit organization that works for the uplifting a...
[Shopping]


---
Bamboo Chinese Checkers - $11.86
Chinese checkers is a classic game for all ages. It can be played be 2-6 people and is a great way to have fun and learn more about the Chinese cultur...
[Shopping]


---
Bamboo Backgammon - $11.86
This Backgammon game is made from bamboo - a renewable resource. The game board measures just 5 inches by 5 inches square making it perfect for travel...
[Shopping]


---
Recycled Flip Flop Truck- Kenya - $29.99
These flip flop Trucks are 5 inches in length and like the discarded flip flops on the Indian Ocean, these will float. Colors of flip flop pieces and ...
[Shopping]


---
The Green Game - $24.95
Play this game and save the planet. Everyone wants to save the planet, but are your efforts helping it or hurting it? The Green Game is an entertainin...
[Shopping]


---
Gecko Puzzle Box - $16.95
This gecko is a fun, 3D puzzle made of Shesham wood, hand carved by talented artisans, and has a hidden space inside.This product is made by HSSS, a n...
[Shopping]


---
BioGreen Wallet - $27.99
Bristling with compartments, this wallet is a masterpiece of functional design. An elastic band keeps it secure. Inside you will find plenty of spac...
[Shopping]


---
Coin Purse - $9.99
This handy little purse is great for coins, condoms, keys and more. Snap closure and two inner compartments. Double stitched for added durability. ...
[Shopping]


---
Yellow Birdie Handbag - $39.99
The Yellow Birdie makes the perfect accessory for the green fashionista. The design and style would never let on that this handbag is made from discar...
[Shopping]


---
Bamboo Chess Set - $13.26
A beautiful set for beginning or experienced Chess lovers! Bamboo is a highly sustainable wood that has an incredibly fast growth cycle which makes i...
[Shopping]


---
Deluxe Medium Hemp Duffle Bag By Ecolution - $89.99
Our deluxe medium hemp duffle bag works great when you need to carry clothing, supplies, or anything you might need on your adventures. Dubbed "The Ex...
[Shopping]


---
Eco-fingerprint Tube - $19.99
Let your kids get messy with our new fingerpaints! Made with all natural ingredients and easy to make. Use the extra containers provided to mix your o...
[Shopping]


---
Eco-fingerprint Tube (Glute Free) - $29.99
Let your kids get messy with our new fingerpaints! Made with all natural ingredients and easy to make. Use the extra containers provided to mix your o...
[Shopping]


---
Walking Wings (Navy) - $24.99
Walking Wings helps baby learn to walk balancing more naturally, hands-free, and experiencing fewer falls. This unique padded support vest easily fast...
[Shopping]


---
Eco-puzzle - $19.99
Eco-Kids puzzles are made with 100% sustainably forested Radiata Pine from New Zealand. This material is a rapidly renewable resource, taking only 32 ...
[Shopping]


---
Nahuala Trifold Brocade Wallet - $15.99
Decorated with a small weaving handwoven in the Central highlands of Guatemala, the Nahuala trifold brocade wallet is unique and practical. Each weav...
[Shopping]


---
Overdye Bifold Wallet - $19.99
The overdyed bifold wallet is made from cotton and accented with embroidered flowers and leaves. The slim design fits comfortably in a back pocket. An...
[Shopping]


---
Walking Wings (Pink) - $24.99
Walking Wings helps baby learn to walk balancing more naturally, hands-free, and experiencing fewer falls. This unique padded support vest easily fast...
[Shopping]


---
Chichi Tapestry Trifold Wallet - Burgundy - $19.99
The Chichi Tri-Fold Tapestry wallet includes a rectangular piece of textile backstrap woven by weavers in the Chichicatenango region of Guatemala. The...
[Shopping]


---
Solar Racing Car Kit - $16.95
Will Develop Speed when exposed to sunlight
No tools required, can be assembled and dissassembled  from snap together components in no time at all....
[Shopping]


---
Solar Helicopter Kit - $16.95

The Solar Helicopter comes in just a few easy-to-assemble pieces. Onceassembled, simply place solar panel in sunlight and...
[Shopping]
---
Puma InCycle Backpack - $69.99
The PUMA InCycle Collection is Cradle to Cradle Certified(CM) by the Cradle to Cradle Products Innovation Institute. The certification rates products ...
[Shopping]


---
Biodegradable Water Balloons - $2.15

Wet Water Balloons (100 pcs)
These biodegradable water balloons are perfect for water sling shots. Super large value pack for hours of fun....
[Shopping]

---
Crazy Crayons Eco Stars (100% Recycled Crayons) - $8.95
20 star shaped, solid color crayons in a box (100 points of colors)!!! Fits perfect in a child's hand for coloring inside the lines or doodling. When ...
[Shopping]


---
Recycled Jute Rice Bag Backpack Handmade in Nepal - $24.98
Room for everything, this bag is sure to please anyone who carries a backpack. Lined, drawstring inner shell and a "flap over" outside closure with a ...
[Shopping]


---
Last Stand: Ted Turner's Quest to Save a Troubled Planet - $15.26
A highly regarded environmental journalist turns his attention to one of the most compelling personalities in American business. Last Stand gives us a...
[Shopping]


---
EcoSaucer Recycled Flying Disc - $5.99
When it comes to good times, the sky's the limit with this groovy flyer. The Green Toys EcoSaucer Flying Disc is made in the U.S.A. from sturdy 100% r...
[Shopping]


---
Vegan Cork Mini Travel Bag - $105.00
Luggage bag made from natural cork. Cork bags are great accessories with a unique texture and eye catching design. An exciting contrast between a natu...
[Shopping]


---
Recycled NFL Football Leather Necklace Chains - $28.00
Weathered and used NFL footballs have been re-purposed as leather necklace chains. Different sections of the ball can be ordered. You can also get cus...
[Shopping]


---
| | | |
| --- | --- | --- |
| | PRODUCT REVIEWED | |
Eco Friendly Three Piece Luggage Set - $166.00
Eco friendly 3-piece set (27", 23" and 19") uprights on spinner wheels. Exterior made from 50% recycled material. Fully lined interior. Push button al...
[Shopping]


---
---
To track actions on our site, Sign Up for a free account!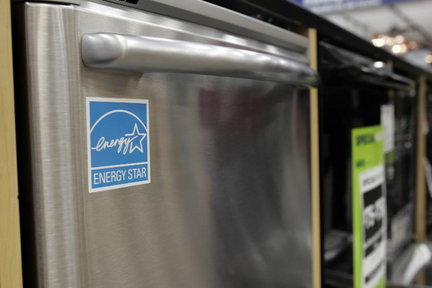 Buy Energy Star appliances
Energy efficient purchases can save families about a third on their energy bill with similar savings of greenhouse gas emissions, without sacrificing features, style or comfort. ENERGY STAR helps you make the energy efficient choice.

Don't have money to invest? You can now get "green" mortgages to help pay for energy-efficient investments on your new or existing home.

There are 171 actions on this website that you can take to help save the earth!
How many "earth-saving" points can you earn? There are
1036
possible points! Find out for free by
signing up
today!
Top 5 Members

| | |
| --- | --- |
| Username | Points |
| greenirish | 617 |
| hbomb7 | 573 |
| DMMike | 412 |
| Elizabetha | 371 |
| lolazion | 357 |
---

Personal Carbon Footprint Booklet

Carbon Tax Calculator App