---
To track actions on our site, Sign Up for a free account!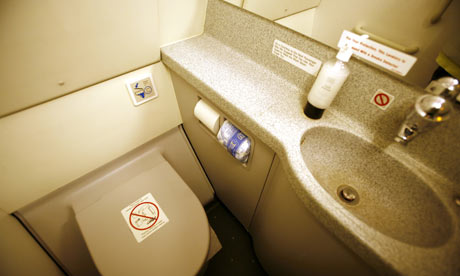 Don't use the airplane toilets
If you wanna save a little CO2, use the airport lavatory before you board the plane, not the one on the plane, since the fuel used for every mile-high flush could run a car for 6 miles. Each lavatory visit emits 5.6 lbs of CO2 due to energy used flushing the toilet (airplanes use powered vacuums, not gravity like toilets at home).

There are 171 actions on this website that you can take to help save the earth!
How many "earth-saving" points can you earn? There are
1036
possible points! Find out for free by
signing up
today!
Top 5 Members

| | |
| --- | --- |
| Username | Points |
| greenirish | 617 |
| hbomb7 | 573 |
| DMMike | 412 |
| Elizabetha | 371 |
| lolazion | 357 |
---

Personal Carbon Footprint Booklet

Carbon Tax Calculator App
"What do you think about the 'Toddy'? It is a cold brew system that yields concentrated coffee, reuseable filters and no electricity to make. To drink, you dilute it for iced coffee or heat in microwave?.....refrigerate it.... or i s there another system for us caffeine drawn masses?"
DelozierLahr on 8/8/2009 about the action Cut back on how much coffee you drink, or stop all together